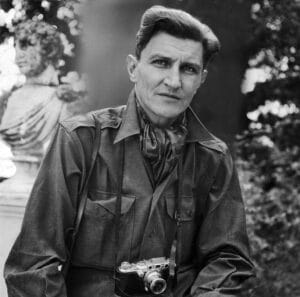 British photojournalist George Rodger made it his personal mission to chronicle the Second World War, and his stunning photography of the Blitz awarded him the position of war correspondent with LIFE Magazine in America in 1942. Three years later, Rodger was among several photographers who were permitted to capture images of the Bergen-Belsen concentration camp. These images would later be published in both Life and Time magazines and were lauded for their realistic depictions of the terrible circumstances of individuals brought to concentration camps.
In 1947, Rodger became a founding member of Magnum Photos. Over the next thirty years, he worked as a freelance photographer, taking on many expeditions and assignments to photograph the people, landscape, and nature of African nations. Much of Rodger's photojournalism in Africa was published in National Geographic as well as small magazines and newspapers.
Rodger's photojournalism and the significance of his photography continued on. His photographs taken in both 1948 and 1949 of indigenous people in the Sudanese province of Kordofan have been noted as being among the most historically influential images taken in sub-Saharan Africa.
Though Rodger originally planned for his photography to be supplementary to his writing, he eventually understood the emotional and aesthetic impact that the medium of photography holds, and his images are still acknowledged today for their historical vitality and realism.
Empty tab. Edit page to add content here.
Empty tab. Edit page to add content here.
Empty tab. Edit page to add content here.